Blanquette de veau (French veal dish)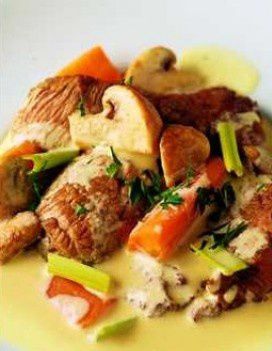 Blanquette de veau is a French veal dish.

The term 'blanquette' comes from the French word for "white" (blanc), being a ragout (stew) with a white sauce.

In a typical recipe, pieces of veal meat (shoulder, breast) and aromatic vegetables (onion, celery, carrot etc) are simmered at length in water or stock.
The vegetables may then be discarded and the cooking liquid is thickened and enriched with flour, butter, cream and egg yolks.

Rice, potatoes or fresh pasta are common accompaniments to this dish, which is served hot.


Delivered with white rice or fresh pasta : $ 22.00 per person
Minimum 4 guests.

For smaller quantities, please ask for an estimate.