Tomates farcies (Meat stuffed tomatoes)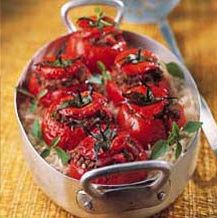 There are those simple dishes that you want to make because you need family food, and because it reminds you of what your mum used to make when you were a child.
Stuffed tomatoes are that kind of food for me.

Those big tasty tomatoes are stuffed with a melt of beef and veal with garlic, onions and herbs.
Inside, under the stuff, is hidden a small layer of rice cooked in the jus of both the stuff and the tomatoe.

Delivered with white rice : $ 17.50 per person
Minimum 4 guests.

For smaller quantities, please ask for an estimate.