Mousse de poisson au coulis de tomates (Fish Mousse with tomato coulis)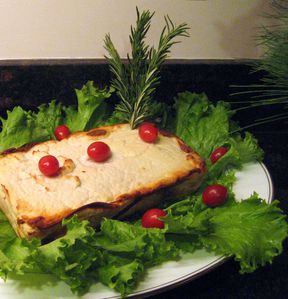 Fish Mousse
is a savory dish made of ingredients which are blended and folded together.
The mixture may be hot or cold, and contain whipped egg whites to lighten it.
Cream is also used to lighten this dishe, though when used in large quantities, this preparation is called mousseline.
This dish comes with a tasty tomato coulis as an accompaniment which could be served hot or cold.
$ 40.00 a mousse.

Serves 10 to 12.