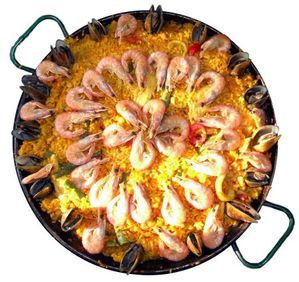 Paella is a rice dish that originated in its modern form in the mid-19th century near lakeAlbufera, a lagoon near the eastern coast of Spain's Valencian region.
Valencians, in turn, regard paella as one of their identity symbols.

We provide two types of paella: Seafood Paella and Royal Paella.

- Seafood Paella is a free-style combination of seafood, vegetables and beans
- Royal Paella adds chicken to this combination .

Anyway for all recipes paella has a layer of toasted rice at the bottom of the pan.

Seafood Paella : $ 21.00 per person
Royal Paella : $ 23.00 per person