Piece montee (Croquembouche)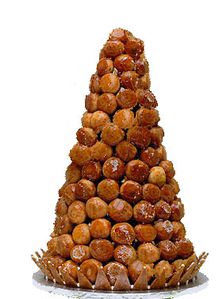 The Croquembouche is a traditional French style Wedding cake made from choux buns filled with fresh French pastry cream and covered in spun caramel.
This beautiful cake could be the masterpiece of a wedding, a birthday party, or any formal event.
Croquembouche literally means "Crack in the mouth".
This delicious tower of choux buns could be filled with both vanilla pastry cream and chocolate pastry cream.
Recommanded quantity : 3 choux per person.
$2 a choux
$2.20 a choux if two flavors