Poulet basquaise (Basque chicken)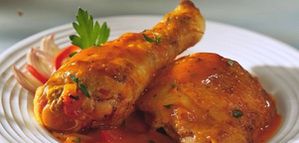 This chicken recipe is originating from the South-West of France, close to the spanish border.

This classic recipe uses the traditional Basque ingredients of ham, bell peppers, and smoky paprika.
Paprika gives a particular flavor that's a little different from the usual repertoire, and that's a plus.

This dish has a very nice sauce results, not spicy, but adding depth from the paprika.


Delivered with white rice or fresh pasta : $ 18.00 per person
Minimum 4 guests.

For smaller quantities, please ask for an estimate.