Salade grecque (Greek salad)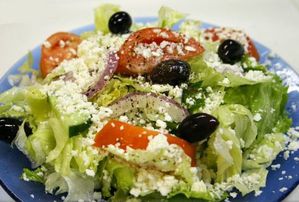 Greek salad
is a common component of a Greek meal.
In France this salad is served with lettuce, tomatoes, red onions, cucumber, black olives and feta cheese.
This very healthy dish could be served as an appetizer, or as an accompaniment to a grilled meat.
Served with olive oil and vinegar.
$ 30 a salad.
Serves 6