Salade nicoise (Nicoise salad)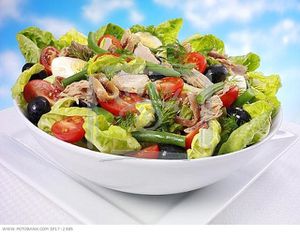 Niçoise salad
is a specialty of the Cote d'Azur) region of France, originating in and named for the city of Nice.
The salad or "salade" is displayed on a flat plate or platter and arranged on a bed of lettuce
The vegetables are individually prepared, then arranged by group. Ripe tomato wedges, halved boiled new potatoes, steamed green bean, wedges of hard-cooked eggs, are topped with tuna, and native Nicoise olives.
Finally the salad is garnished with tinned anchovies.

The salad is served with traditional Dijon vinaigrette.
$30 a salad

Serves 6