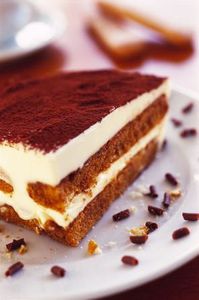 Tiramisu is one of the most popular Italian cakes. It is made of savoiardi (otherwise known as lady finger biscuits) dipped in espresso or strong coffee or rum (optional), layered with a whipped mixture of egg yolks, mascarpone, and sugar, and topped with cocoa.
In the original recipe, there was no liquor as the cake was originally aimed at children and the elderly, and the original shape was round.
The phrase
tirami su
literally means "pick me up" or "pull me up" in reference to the effects of the sugar and espresso and more poetically "pick me up to heaven" due to the delightful taste.
$ 36
a dish that serves 6 to 8.
$ 48
a dish that serves 10 to 12.
$ 60
a dish that serves 14 to 16