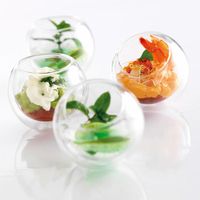 A Verrine is an appetizer or dessert that consists of a number of components layered artfully in a small glass.
The word Verrine ( pronounced vair-EEN ) refers to the French word for glass "verre".
Savory or sweet, cold or warm, sophisticated or casual, Verrines can find their way in any kind of parties.
Intriguingly composed, they're a chemistry between textures, flavors, colors and temperatures.
A beautiful glass might be filled with layers of crabmeat, avocado and pink grapefruit, another will have chocolate, raspberries and a cinnamon flavored crumble.
In France, it's a culinary trend that's captured just about everyone's imagination, including home cook.
If you want Verrines to be a dish in a glass, and your party to be unique, Verrines offer a new form of dining, where plates are no longer necessary.
For many people who don't want to seat around the table Verrines are particularly handy.
If verrines sound like something you might like to try out for a fancy dinner at home, or more simply to enjoy and astonish your guests at a party, or if you like the idea of a dinner party where you can walk around with your food,
then ask us to make your wishes come true.