Learning about "Galettes and Crepes"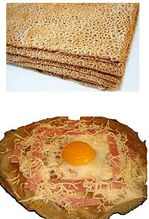 The real difference between "galettes" and "crepes" is the type of flour used to make it !
Galettes are made with buckwheat flour and crepes with regular flour.
So, galettes are more appropriate with salted ingredients and crepes with sweetened ingredients.
In this lesson, we'll learn how to make five different recipes of galettes and crepes :
- "Galette complete" (Ham, egg and cheese)
- Galette with salmon, sour cream and chives
- Crepe with butter, lemon and sugar
- Crepe with blueberries, strawberries and whipped cream
- "Crepe Suzette" ( butter, sugar, lemon and orange juice, Grand Marnier)
Each recipe will be tasted.
Minimum 4 students
Up to 12 students.
Duration : 3H
$65.00 per person