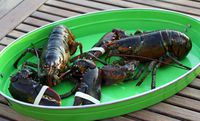 Lobsters are weird animals, but so good !
In this lesson, learn how to prepare a lobster, what to use, what to throw away,
how to cut it and how to cook it :
- Grilled lobster
- Lobster salad
Each recipe will be tasted.
Minimum 4 students
Up to 12 students.
Duration : 3H
$90.00 per person