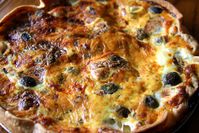 I never met anybody who doesn't like quiche lorraine and salted pies !.
In this lesson, learn how to make three different recipes of salted pies :
- Quiche Lorraine
- Quiche Broccolis
- Quiche salmon and spinash
Each quiche will be tasted.
Minimum 4 students
Up to 12 students.
Duration : 3H
$70.00 per person