The French Touch Catering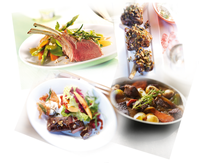 Catering Services
The French Touch is a new caterer in the Lehigh Valley and surrounding areas specializing in French cooking provided by chefs coming directly from France.
We also provide dishes from around the world and we are open to any request you may have.
For a consultation about your dinner or party requests, or an estimate, click on the word "contact" on the right,
or send an email to :
contact@thefrenchtouch.biz,
or call 610-573-0231
Then, we will shop your ingredients, assemble your dinners, and then deliver them to you.
The French Touch needs 72 h notice to deliver your order.
Personal Chef
How does it work ?
First call us or email us to make an appointment and plan your menu.
Then we will choose your menu, check any allergy you may have, plan the best time to cook , and take a tour in your kitchen; don't worry all we need are a sink, stoves and an oven.
As Personal Chefs we will shop all the fresh ingredients and come at your home on a scheduled day to prepare your meal from scratch in your kitchen. Whether it's regular meals for the family, a dinner with your friends or a romantic dinner for two, everything is customized for you !
You will find your kitchen cleaned up and your fridge filled with your menu packaged and labeled, and your heating instructions, unless you want us to stay on and serve your sit down dinner as your private chef.
The only thing you will have to do then is to enjoy !

French Cooking Lessons
Try our French cooking lessons in our kitchen or at your place.
Whether your goal is to learn basic kitchen skills or to enhance your knowledge and ability to cook french food with ease, or to simply have a good time cooking and eating with others, The French Touch is the one for you !
Just click on the "contact" link on your right and ask for an appointment, your satisfaction will be our goal.