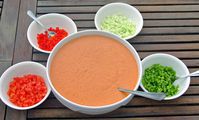 Soup can be savory or sweet, hot or cold, thick or thin.
In this lesson learn three soup recipes, a cold one, a creamy veloute
and a very classical French one :
- Gazpacho
- Cream of mushrooms soup or Mushroom veloute (Veloute de champignons )
- French oignon soup gratinee (gratinee a l'oignon)
Each dish will be tasted.
Minimum 4 students
Up to 12 students.
Duration : 3H
$70.00 per person