Tartiflette (Potatoes au gratin with Reblochon cheese, onions and bacon)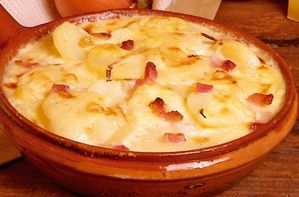 Tartiflette is a French dish from the Savoy region, in the French Alps.
It originated in the valley of Aravis, home of reblochon cheese, the only cheese permitted to be used on a tartiflette.

Tartiflette is a "Potatoes au gratin" with Reblochon cheese, onions and bacon.

It is not, however, a traditional dish and was, in fact, invented and launched only in the 1980s by the Reblochon trade union in an attempt to increase sales of the cheese.
Different valleys in the region have different methods of producing tartiflette and there are probably more than one recipe per village. All recipes have potatoes, cheese, and some kind of meat such as slab bacon or salt pork.

The hot melted cheese combines with the white wine and cream form an inimitable sauce.

Definitely the cold fighter.

$ 24.00 per person
Minimum 4 guests.

For smaller quantities, please ask for an estimate.